For those of you new to ActiveCollab, a page within the app is dedicated to tasks assigned to you, your time records, and your activity - it's called My Work. You can use it to organize your day-to-day, and get a full insight into what you've been doing and what needs to be done.
For those who have been using ActiveCollab for months or years - we have great news!
We're very proud to present a brand new look of the "My Work" page. Here's a quick overview of the main changes:
Grouping your tasks by their due date
Collapse and expand projects and task groups
A brand new "Add" button
Availability records within My Work


My Work for Client+ roles

A refurbished look
Sort by due date
"At long last!" - you might say. We know! Finally, we got to turn your most sought-out feature request into reality. You can now sort out your tasks by project or their due date. At the top, you'll see all the overdue assignments, followed by those that need your attention today, then tomorrow, the rest of the week, and everything following the current week ("Upcoming"). At the very bottom of the list will be all those tasks assigned to you but lacking the due date.
You'll still be able to sort out your tasks by project, of course. Switch up the views whenever, as many times as you like. Let us know how's it all working out!
Collapse and expand task groups
We like to keep overviews nice and clean. And we know you don't need to look at all the work waiting for you all the time. So, we've made the lists collapsible! Hide what isn't burning at the moment and focus on one thing at a time.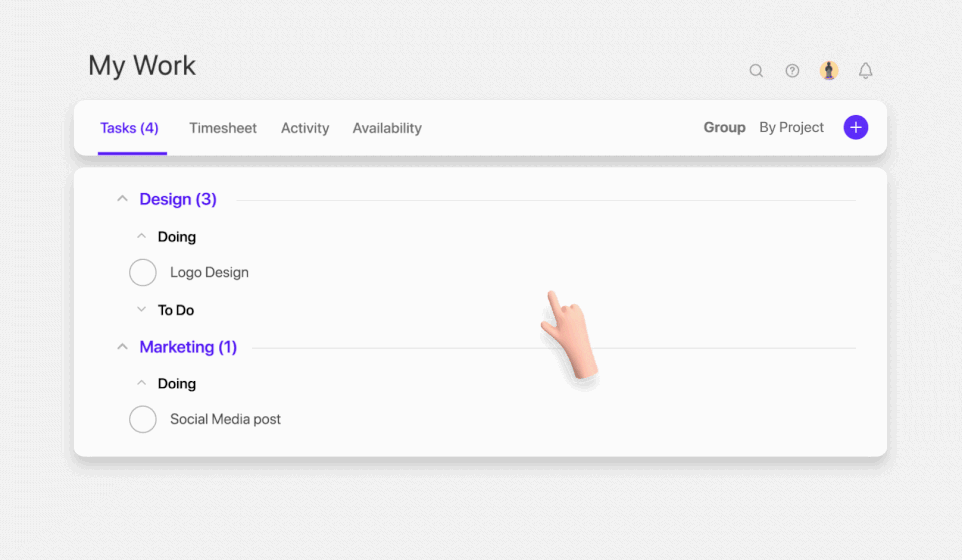 You can also rearrange your projects' lists as you prefer!

A brand new "Add" button
This is the first time a button like this appears in our app! Here you'll be able to add:
a new task (automatically assigned to you)
your new time record
your new availability record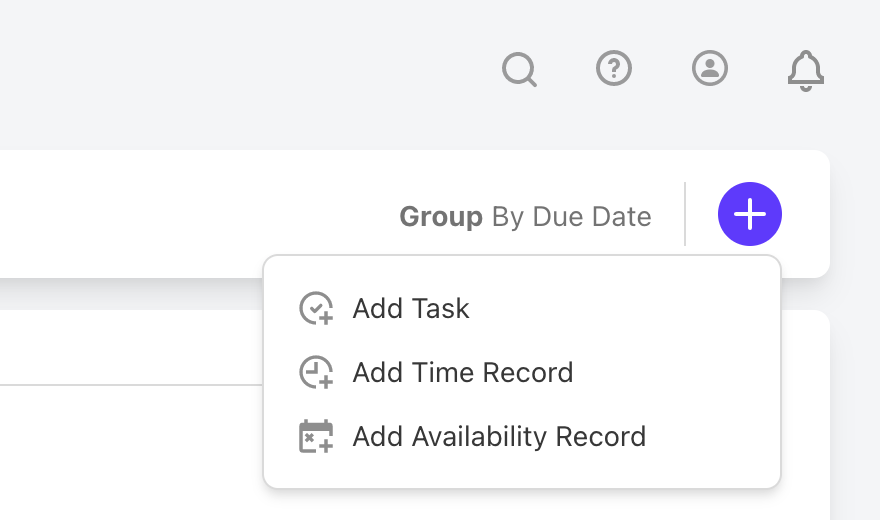 This way, if you've forgotten to log a couple of last night's work hours, you can add them simply from your My Work page, find the project or task in a few moments, and voila! Nothing is lost.
Availability records
Keep it all in one place. Your tasks, activity, time records, availability. No need to dig through the People page if you'd like to take a day off. It's all in My Work now! And it works just like before. Take a sick day, day off, book a vacation. The date picker within each task assigned to you will show if you're present or not, Workload as well.
Client+ get My Work
If you're not familiar with all the roles you can assign to your team members and clients, check out this page to get more info.
You can invite an unlimited number of Clients to your projects for free. Client+ roles, on the other hand, are a bit different. Unlike their (free) Client counterparts, they can create or complete tasks, and be assigned to them. For instance, "Review and comment design changes" could be an assignment for your Client+.
And now they'll be able to view all the tasks assigned to them in My Work, just like Members and Owners! Also, they can see all their activity in ActiveCollab.
A refurbished look!
More tabbing, less scrolling! Not only it's all more organized, but it's also faster. Plus, we keep tabs on your tabs. Wherever you left off, that's where you'll land when you get back to My Work.
This new look gives us plenty of space for experimenting. Do you have any suggestions? Hit us up on Twitter or contact our lovely Support Team!
We hope these updates help you organize your day-to-day better. Work is essential, but it's even more important to balance life and work properly. Create a perfect to-do list, and enjoy the rest of the day off the clock!