Have you ever heard of the term Work Breakdown Structure? Or perhaps wondered how it can help your project management efforts? If this is your first time getting familiar with WBS, you should know this is a visual tool that helps track and define a project deliverable and other small components required to create it.
With the help of WBS, you can stay focused entirely on the things you need to accomplish as the project moves along towards the deadline. In essence, WBS is a foundational tool that helps leaders and project managers evaluate, manage and plan big projects, so let's learn a bit more about it.
WBS (Work Breakdown Structure) in Project Management
As the name implies, work breakdown structure starts with a large objective or a project. It breaks it down into smaller, manageable pieces that team managers can reasonably evaluate or assign to teams.
It's important to mention that WBS doesn't focus on individual actions; instead, it's more focused on specific, measurable milestones or deliverables. We can call these deliverables terminal elements, sub-tasks, tasks, or work packages.
Additionally, all steps of the project must be outlined and recorded in the organizational chart of WBS, which makes it a crucial project management tool for planning and scheduling. The final deliverable should be placed on the top of the diagram, while the levels below need to be divided into phases, deliverables, and tasks necessary to complete the project.
The purpose of a work breakdown structure
Why should we waste time on charts and post-it notes when we can have our team start working on the project right away? There are three potentially good reasons why using WBS in your projects is a good thing.
Firstly, work breakdown structure helps you define and organize the scope of your project precisely and more accurately. The most common way to use it would be creating a hierarchical tree structure. Each part of this structure breaks down the project deliverables into measurable, specific chunks.
The second reason for using WBS in your projects is to help keep control over the project, reviewing it, assigning responsibilities, and resource allocation. WBS ensures that deliverables are more precise, so every team knows what needs to be accomplished with each deliverable.
And, finally, WBS allows you to double-check everything and make sure nothing is overlapped or missed.
What makes a good WBS
A good work breakdown structure is made of several key components:
8–80 time limit: you shouldn't work less than 8 hours and no more than 80 hours on work packages.
100% rule: the work breakdown structure must cover 100% of the scope defined.
Structure of WBS: work breakdown structure translates the entire scope of the project to relevant stakeholders. It should be presented in either list or tree structure.
The use of dictionaries: to support WBS, you must use WBS dictionaries.
Codification: every work package has a unique code; that's why WBS is supported by a well-defined codification scheme, supporting and monitoring the project.
Work package sizing and naming: sizing implies that work packages need to be shorter than the project's reporting period, while naming states that packages should be named as nouns.
Team: great teams always stand behind WBS.
Progressive elaboration: these are introduced gradually as the scope evolves.
The difference between Work Breakdown Structure and Project Plans
A project plan establishes a general framework, which further planning relies on. This is a formal, approved document, which defines how the project will be controlled, monitored, and executed. The project plan is mainly used to facilitate communication among stakeholders, document plan decisions and assumptions, and document approved schedule baseline, costs, and scope.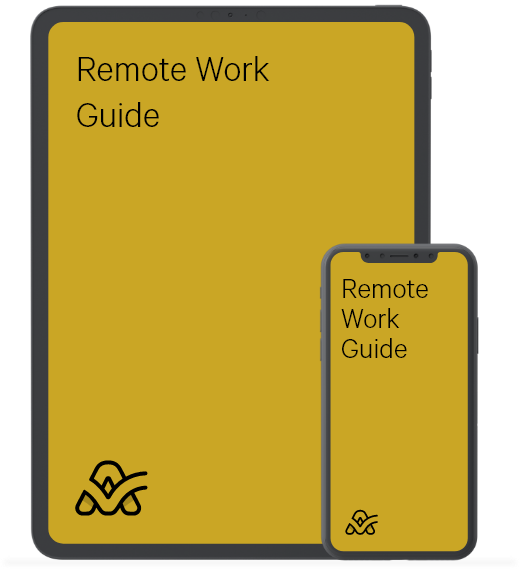 Remote Work Guide
This guide will give you clear instructions for making a smooth transition towards remote operations, getting the best experience with remote work.
On the other hand, we have work breakdown structure, and its goal is to divide the project into controllable elements. WBS is a hierarchical representation of things that need to be done to complete a project.
Levels of a work breakdown structure
As we already mentioned earlier, WBS is used for large and demanding projects. With the help of this tool, we are breaking down the project into more manageable pieces to make it easier to deliver, schedule, and plan. That's why each WBS has four main levels:
The top-level: the final deliverable or project title.
Controls account: the main deliverables and project phases.
Work packages: the group of tasks that lead to controls account levels.
Activities: all the tasks required to complete work packages.
How to create a WBS for a project?
If you are wondering how to make a work breakdown structure, we have a scheme that will guide you through this process.
1. Identify the most significant deliverables: your goal is to collect all deliverables that stakeholders mentioned during project initiation.
2. Go through ideas: gather suitable team members and organize a brainstorming session. Invite all people relevant to the project. Your mission is to identify the first two levels of decomposition.
3. Define the order and structure of deliverables: in this phase, we attempt to finalize the second level of decomposition by giving proper names to WBS elements.
4. Appoint responsibilities: each person should be responsible for one deliverable. At this point, we are creating the RACI (responsibility assignment) Matrix.
5. Project managers turn deliverables into work packages: the team leader now works with other team members to further decompose the project.
6. Validate the WBS: based on processes and policies, you might need to verify WBS with some stakeholders.
7. Present, get feedback, get sign-off, and make corrections if needed: the final step would be to get a sign-off from customers; otherwise, they can say you forgot something.
Applying the work breakdown structure to the project management lifecycle
There are several steps to go through in order to apply the WBS to the project management lifecycle:
Set up phases for final deliverables
Create subtasks, describe each task and appoint task owners
Connect dependencies
Set costs and resources
Add start and end dates, as well as estimate completion
Track the status of each task
Don't forget about notes
Make reports
Importance of Work Breakdown Structures in Project Management
It should be clear from the start why WBS is so important to the project management lifecycle. This is a to-do list that kick-starts the organizational process by determining the project scope. When creating a work breakdown structure, you are collecting every step you will make throughout the cycle of your project.
Of course, WBS comes when your project is in its initial phase, and it's a significant part of the planning stage. A project manager is the one responsible for the project, and with a project team, makes sure that the project meets stakeholders' expectations. With the help of WBS, you will be able to avoid many problems that could potentially sidetrack your project, like missed deadlines, fuzzy requirements, cost overrun, and others.