I'm David Blinov from Helsinki, Finland. Three years ago I founded The F Company with the mission of bringing innovative marketing technology closer to customers. Today, we are one of the leading B2B Growth Marketing agencies, helping companies grow revenue with measurable marketing.
Our approach relies on systematically improving our clients' marketing performance through experiments. We test new ideas, learn quickly, and let the data show us scaleable ways to grow sales. We won an award for the Best Nordic B2B Campaign in 2019, by helping a Finnish tech company get 13x more leads than before.
The endless search
Our approach to solving client challenges often involves many variables. From the early days of the company, we've had a need for a powerful project management tool. Our criteria included project time tracking, flexible task management, and an intuitive user interface.
We tried some popular tools, as well as a few more expensive solutions. However, all of them missed at least some of the features we needed.
Time tracking was a regular issue since most project management apps didn't have a native solution. We had to experiment with 3rd party apps, all of which had limitations when assigning tracked time to project tasks.
I'd heard about ActiveCollab in an article by another marketing agency, where they praised its flexibility. Having unsuccessfully tried dozens of different solutions at the time, I was quite hesitant to try yet another one. I'm so glad I did!
Time tracking, Project templates & UI
We use an hourly billing model for most of our clients. This means that accurate
time tracking
is essential. Luckily,
it's one of the best features in ActiveCollab.
We can track time on projects and tasks, and even choose between billable and non-billable activities.
Project management itself is a breeze. We've created templates for typical client projects, and starting a new assignment is now easier than ever. All typical tasks are saved in the template, and the project manager can simply delete the ones that don't apply to that particular case.
The user interface is lightweight and clean. Having used some heavy-duty project management software before, it was a breath of fresh air to move our team to ActiveCollab. All the information is right where you need it. And best of all, you don't need to train new recruits on how to use the app, because it's just so intuitive.
Dramatic improvements
Our project management has improved dramatically since we switched to ActiveCollab. We use it for client projects, internal activities, and even for tracking the yearly OKRs. Everything is in one place, and easy to work with.
Another clear improvement to our work has been on the reporting and billing side. In the past, it was surprisingly hard to get the team to track their activities because our tools were just so clunky.
ActiveCollab's time tracking feature allows us to record billable hours and easily invoice clients. And when we deal with project-based billing, we can just as easily see which projects are about to go over budget.
This spring we are also exploring the option of automatically exporting tracked hours into our clients' marketing dashboards. That would make our work even more transparent, and clients could clearly tie the marketing performance with the amount of work put in.
All in all, I can wholeheartedly recommend ActiveCollab to marketing agencies. It's a tool that your team will love using!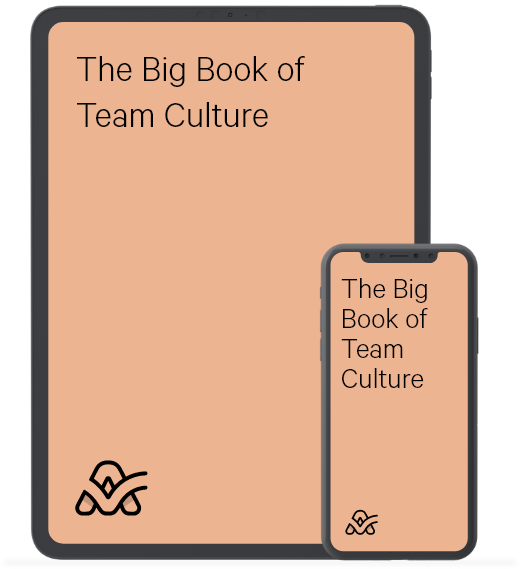 The Big Book of Team Culture
This article is just a small part of our Big Book of Team Culture. Get your hands on this free ebook and learn what makes a great team, how to improve teamwork, what it means to be a leader in a modern workplace, and how to create positive team culture - all in one place.