Establishing, developing, and maintaining a solid relationship with a client is crucial for sustainable business growth. Regardless of the line of work you're in, making your client relationship a top priority will determine the success of your organization.
One of the underlying traits of any relationship is trust, but it comes with time and can't happen overnight. When you deal with mistakes ethically and humbly, trust comes naturally. This is also the time when the most profound personal connections are formed.
It's crucial to treat your clients with respect, empathy, honesty, and fairness. These are only some of the reasons why they'll want to do business with you. If you keep treating them this way, they will repay you with their loyalty.
On the other hand, building a relationship with a client isn't as easy as it sounds and requires energy, time, and attention - client management is not simple. You can't fake your actions and expect clients to trust you. If you want to build a stronger client relationship, we have a couple of useful techniques you should try.
The rules for building client trust
Trust is earned, not given. If you wish to build trust with your clients, keep in mind you need to do things in a particular way. Clearly, you will have to establish a strategy with deliberate actions that facilitate trust and build credibility. As a rule, we don't start off trusting people in general, so why should your clients do the same?
Be unique. Even though it's true that some people will hire services or buy from companies they don't completely trust, that relationship only goes to some extent. Building trust with clients requires genuineness. Contracts are one of the ways to show you are genuine. They give clients peace of mind so that no one will feel the need to enforce the contract.
Be transparent. Occasionally, being transparent means delivering bad news upfront. Eluding truth or hiding problems only leads to disappointment; therefore, admit and resolve as soon as possible if you make a mistake.
Stay true to your word. Have you ever promised a client you would have that report ready by the weekend? Your team members may have run into a couple of issues that threatened to delay its execution. In that case, you probably have to work around the clock to deliver the report on time. This is one of the ways to build trust with your clients by staying true to your word.
Pros of earning the clients' trust
No trust, no customers
It's simple as that – no trust equals no customers. Be aware that clients aren't wasting their hard-earned money on a company they don't feel confident in. You may offer high-quality products or services, but if your target customers don't trust you, your business is doomed. Once you achieve a genuine connection with customers, you can expect to make real progress.
Happy customers will offer you insight
Most businesses hire marketing agencies to improve their visibility, increase revenue and attract new customers. Even though marketing might be an essential aspect of business growth, it won't do you any good if you haven't established trust.
One of the best marketing strategies is making your clients happy. You should start by getting them to trust your company and the services you offer.
Competitive edge
This is quite challenging for many companies because the market keeps evolving. Most businesses work to keep up with new trends to stay ahead, making it hard to identify what works and what's a waste of time.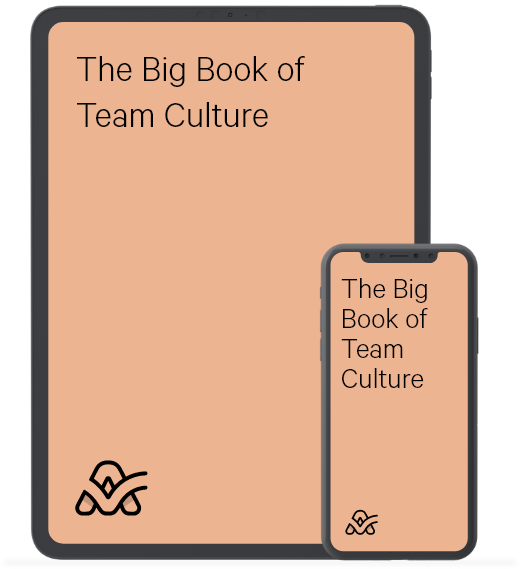 The Big Book of Team Culture
This article is just a small part of our Big Book of Team Culture. Get your hands on this free ebook and learn what makes a great team, how to improve teamwork, what it means to be a leader in a modern workplace, and how to create positive team culture - all in one place.
Nowadays, clients are hyper-aware of companies they do business with. Their attention has shifted toward brands that support transparency, authenticity and wish to build genuine relationships instead of making the next sale. These features help businesses soar and thrive, even in a competitive market.
Better reputation
Reputation plays a crucial role when it comes to your company's success. A bad reputation will quickly steer customers away and stop all operational processes right in their tracks. On the other hand, a company with a good reputation will increase its perceived value, gain more clients and propel its services to the next level.
The no-nos of collaboration with clients
Not setting up expectations. Nothing can damage a relationship as both parties thinking that the other is doing something one way instead of another, and in both cases, they might be wrong. It's obvious that customers want you to exceed their expectations. However, that's not possible unless you know what's expected from you. Make sure to write those expectations down, track your progress, let your clients know how you're performing. Last but not least, allow them to help you perform even better.
Promising too much, but hardly delivering. By assuming such a role, you are damaging your character and destroying your reputation. Over-promising but hardly delivering ruins your business. So, be modest with assertions, make conservative projections, and behind the scenes, work your tail off to meet your client's expectations.
Neglecting important conversations. Occasionally, your company will fall short on delivering upon expectations. In that case, it's important to have courage and show your clients you are willing to do anything to back up your promise. Understanding and mutual respect are born during these moments, which is crucial for a successful business relationship.
Putting your needs above those of a client. People will sense your insecurity and know when you are putting your needs above theirs. You should show them that you care about their needs and let your clients see that they aren't just a revenue line or a number on paper. Sure, they pay your bills but help them realize that your relationship with them is more than that.
Tips for building trust with clients
If you ever wondered how to build trust with clients or improve your relationship, we have a couple of tips to get you started.
Show respect towards your clients
If you treat your client with honesty and respect, they are more likely to reciprocate. If you set up a meeting for 2 pm, be respectful of their time. If you promise to deliver something, make sure it's in their inbox by the end of the day.
Understand that proactive, timely, and honest communication is one aspect of respect. So, when talking to a client, do it in a genuine tone and don't try to prove your expertise by deliberately using words they won't understand.
Get personal
If you have a purely business relationship, trust will not come naturally. Even though it's a bit odd to include personal affairs in conversations, this will help both parties relax. For example, start with something you can relate to, like weather, college, or sports. Don't be afraid to share some interesting facts about yourself.
Admit mistakes
Everyone makes mistakes, and during any relationship, someone will mess up. If it's your fault, don't try to hide your wrongdoing or blame someone else. Openly communicate with your clients, pause what you are doing, and offer an apology.