Instead of retelling the same old stories about best teamwork practices from companies such as Google, Chevron, or Southwest airlines (which don't really help when you have a small-to-medium team), we decided to find real-life examples of successful teamwork.
We asked everyday entrepreneurs, CEOs, and HR managers one simple question:
How did you improve teamwork in your organization?
Here are the best 9 examples we came across.
3-step onboarding
Developing teamwork should start as soon as the new employee walks through the door. According to Lauren McAdams, career advisor and hiring manager at ResumeCompanion.com, the most successful method for creating excellent intra-team relations was instilling a sense of teamwork early on in the onboarding process.
"While we do experiment with different team-building measures, there are three that have become common practice:
First, during onboarding, we have new employees shadow an experienced "coach" who is tasked with helping their integration into the team. After the initial phase, we assign the new employees to shadow other people so they get to have more than one "coach".
Next, when we begin a new project, I personally assign mini-teams to handle those projects. These smaller units are often comprised, in part, of employees who haven't had a chance to work together. This way, new hires get an opportunity to work and develop relationships with everyone they collaborate with.
And finally, leadership rotates on these projects so different people have a chance to test their leadership skills. Also, since project teams always have different people on them, everyone in the company gets to know each other at some point by working together. This level of exposure and collaboration resulted in very strong teamwork at our company."
Role switching
Some organizations encourage their employees to walk a mile in someone else's shoes. Lee Fisher, an HR manager at Blinds Direct, says that successful teamwork should be based on solidarity, respect, communication, and mutual understanding. With that in mind, his company has been organizing a series of team-building events over the years.

"Our most unconventional event to date was the 'Role Switch'. It was launched across our web and marketing department. In the event, each team member switches roles with a colleague. Usually, team members work together closely but they don't really understand the complexities of other person's role.
Spending a day in your colleague's shoes highlights their efforts, which brings more understanding and respect for one another. The 'Role Switch' was a huge success: it brought the team closer together and made people more considerate of other's workloads and requirements."
Cross-training
Sharing experience with your peers is important, but recognizing where they can best help you improve is even more important. According to Steven Benson, founder, and CEO of Badger Maps, his company has benefited from one self-initiated cross-training session which resulted in an increase in both teamwork and productivity.
"An example of successful teamwork at our company was when the customer relation department put together an initiative of cross-training and specializing team members for different roles. After deciding who will focus on what, the group sat down and taught one another what they would need to become the expert in their respective area.
Because people were cross-trained, they had a broader set of skills they could use to handle customer interaction - which resulted in fewer hand-offs. This not only enhanced teamwork and productivity, but also improved customer satisfaction. Everyone worked as a team and covered for one another, which made everything move smoothly and quickly."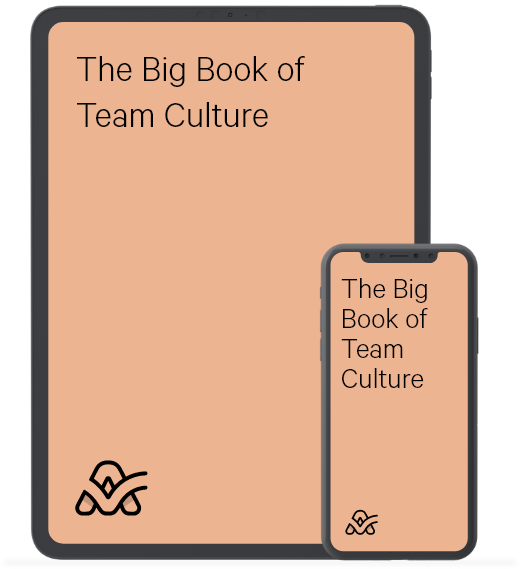 The Big Book of Team Culture
This article is just a small part of our Big Book of Team Culture. Get your hands on this free ebook and learn what makes a great team, how to improve teamwork, what it means to be a leader in a modern workplace, and how to create positive team culture - all in one place.
Scheduled breaks and self-reflection
Publicly reflecting on achievements increases everyone's morale. Bryan Koontz, CEO of Guidefitter, considers teamwork to be more than just brainstorming ideas or helping a colleague on a project - it's about fostering a culture of trust and respect.

"A few ways we cultivate an environment of trust and respect is through meetings, or rather "breaks", that don't necessarily focus on work. By scheduling "break" times in our calendars, we allow our employees to talk, relax, and discuss the ins-and-outs of their days.
We also strengthen our teams through brief weekly meetings with the entire office: each Wednesday morning we huddle up to recap the past week, with each employee sharing one professional and one personal "win". This encourages everyone to pause for self-reflection on their achievements, often serving as motivation to their peers while forging a bond among our team members."
Team traditions
Members of jelled teams have a strong sense of identity and often share traditions like getting together for a drink after work. According to Katerina Trajchevska co-founder and CEO of Adeva, establishing team traditions is the foundation upon which teamwork is built.
"Rather than using one particular method for strengthening our team, we focus on creating an environment that fosters team spirit and communication. We organize after hours drinks and hangouts, and develop a culture that encourages everyone to speak up and take part in the big decisions for the company.
Team traditions can do wonders, no matter how trivial they seem: we have a team lunch every Friday, celebrate birthdays and other important dates, and celebrate one of our national holidays together. All of this has contributed to a more cohesive and a close-knit team."
Unconventional business meetings
Some companies use their business meetings to improve teamwork within the organization by making them fun and laid-back. James Lloyd-Townshend, CEO of Frank Recruitment Group believes that bringing teams together in an informal environment improves teamwork, strengthens bonds, and bolsters morale - which is why he decided to spice up the company's monthly meetings.
"One unusual method we've introduced is "First Thursdays": we start off our monthly business meetings with a business review, promotions, and awards - and then move on to an open bar event.
Apart from "First Thursdays," we also have "Lunch Club": another monthly event where employees enjoy an all-expense-paid afternoon to celebrate their success and enjoy fine dining and have fun with their colleagues.
However, the most popular team building method we employ is our incentivised weekends away. Our top-performing consultants get the chance to travel to major cities such as London, New York, and Miami as the rewards for their hard work."
Peer recommendations
Some companies are building teamwork through peer recognition. Jacob Dayan, a partner, and co-founder of Community Tax said that encouraging employees to be active participants in recognizing their peers has proven to be quite a powerful motivational tool.

"I ask employees to share or report instances when someone on their or another team has been particularly helpful or has gone above and beyond their call of duty. After we thank the contributing employee for their input, we make sure the employee being acknowledged knows the source of information. Having employees "nominate" their peers for recognition has the additional bonus of bringing them closer together and building camaraderie with long-term productivity benefits."
However, Mr. Dayan is well aware that peer reports and nominations can be driven by personal feelings (positive as well as negative), and can give an unrealistic representation of certain employee's contribution.
"Personal relationships, both close and less so, are an important consideration when pursuing this approach, which is why we do not hand out recognition without validating the worthiness of the employee's contribution. We ask the appropriate manager to review the submission and keep an eye on it over time, just to make sure there are no dubious activities."
Conflict resolving
Successful teamwork happens when members of a group trust each other, are comfortable expressing themselves, and deal effectively with conflict, according to Laura MacLeod, a licensed social worker specialized in group work, an HR consultant, and a mastermind behind "From the inside out project".
"Many companies think that team building is about company picnics, happy hours, and other fun events. These things are fine, but they don't address the real issues people face when they have to work together. Going out for a drink with someone you can't get along with will be just as uncomfortable and awkward as trying to finish a project with that person - the only difference is having alcohol as a buffer."
According to Laura, certain team-building exercises can help individuals overcome both intragroup and personal conflicts.
"Choose simple activities that help build cohesion and trust amongst team members. For example, you can use "Pantomime in a circle" exercise: without using words, pass an imaginary object (a bucket of water or a ball) around the circle; the point of the exercise is for group members to rely on each other to complete the activity.
When it comes to personal misunderstandings, you might want to choose an activity where you are actually allowed to yell at a person. So, pair off people and have them repeat opposing sentences (such as it's hot/it's cold) back and forth - going from soft to very loud. This will allow people to get out strong emotions in a non-threatening way, and blow off some steam in the process."
"Spotless" team-building exercise
Dmitri Kara, a tenancy expert at Fantastic Cleaners, shared with us a team-building exercise his team uses to increase cooperation and efficiency.

"Everybody in the office has to simultaneously perform a 2-to-5-minute cleaning routine (like wipe their desk, keyboard, monitor, shelves). But there's a catch: the tools are limited. For example, make everybody wipe the dust off their desks at the same time but provide only 2 sprayers and 1 roll of paper towel (if your team has 10 members)-. Scarcity will encourage people to share and help each other."
Besides providing obvious benefits (like a cleaner working environment), Dmitri says this team building activity boosts organization, improves long-term productivity, and develops a sense of morale, discipline, and shared responsibility. He even shares how the exercise came into being:
"At first it was not really a dedicated exercise. The first time we did it all together, it was because of a video shoot. But since it felt good, a few days later somebody said, "let's do that again". And that's where the whole thing came to be."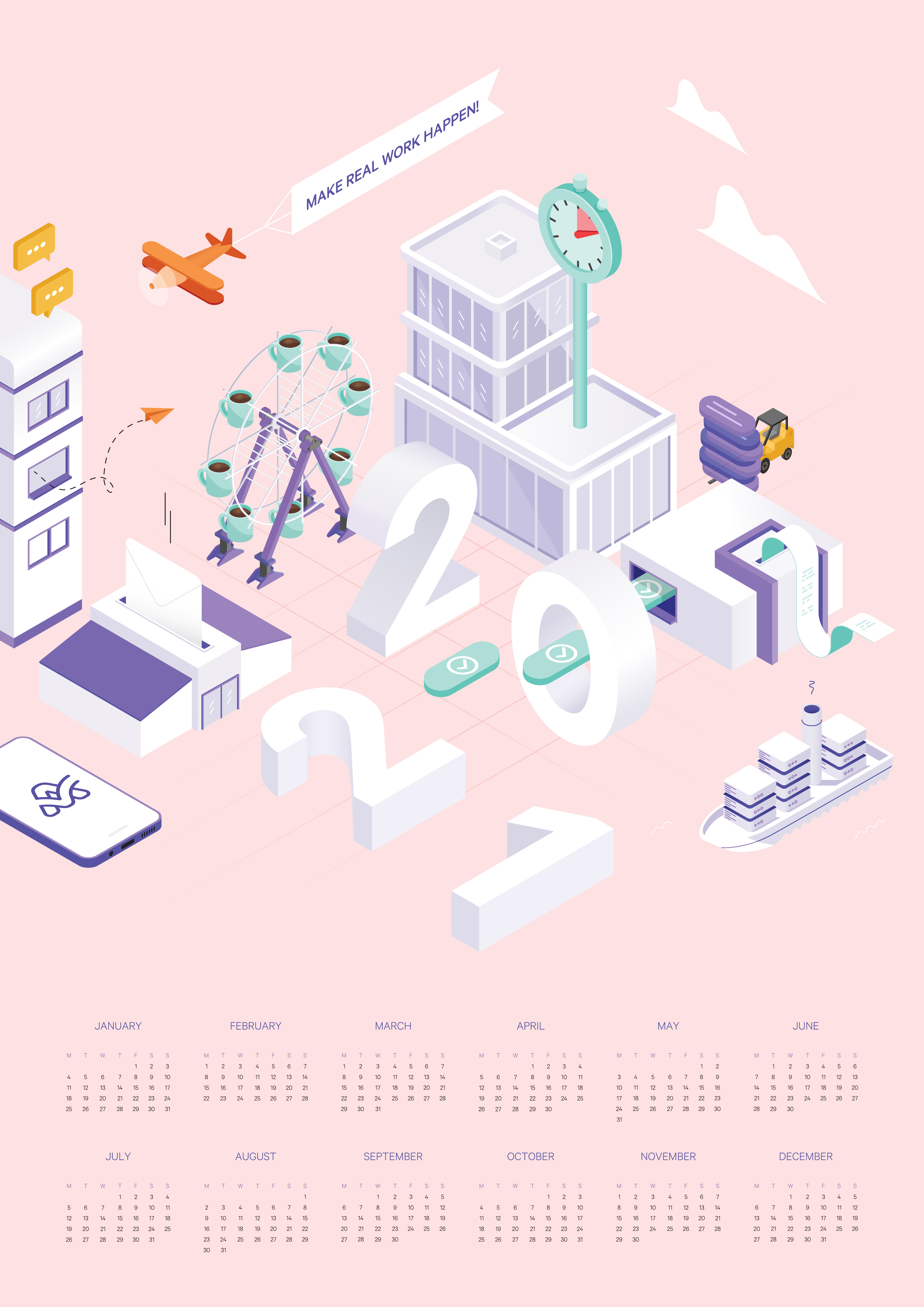 ActiveCollab 2021 Calendar