Collaborative skills are essential for any individual and team's success. Whether you are already a part of the team or building one, getting all members on board is easier said than done. Collaboration brings people together, regardless of their location, position, or department, as they all focus on a common goal.
Unfortunately, it can't happen unless everyone is on the same page. Of course, you can always hire people for their collaborative skills, but if conditions for a collaborative environment aren't suitable, collaboration won't thrive. We'll focus on some of the crucial skills needed for effective collaboration and what leaders need to do so they can establish it.
What is effective collaboration?
Collaboration in the workplace ensures successful business outcomes. However, for some people, workplace collaboration is a reminder of school days when they were forced to work in time-consuming groups. Effective collaboration doesn't mean you should schedule or participate in more meetings to collaborate more. It should be a practice where team members are engaged in daily communication about the things that matter.
With the right tools, weekly meetings can be either replaced or reduced. Once you implement effective collaboration, your team members' lives become easier while decision-making and problem-solving processes become simpler.
Why is collaboration important?
Collaboration is when a group of people or team members join and contribute their experience to benefit a shared mission, project, or goal. But why are collaboration skills in the workplace crucial?
They encourage problem-solving skills: when you are out of ideas or a deadline is approaching, you may schedule a brainstorming session with your team and ask your coworkers for help.
They bring people together: if some teams in your company rarely interact or operate in isolated silos, you can set up a mixed-skilled team.
Help people learn from each other: working with different groups is all about sharing experiences and learning new skills. Each individual has something unique to bring to the table.
They create new communication channels: an open workplace ensures that people from different areas of your business get to use new communication channels that would otherwise be closed.
Enhancement of morale: as connections are built between departments and teams, coworkers will naturally trust each other more, which significantly increases confidence across your entire organization.
Promote a higher retention rate: collaboration is a foundation for a more engaged, connected, and open workplace. Therefore, it is more appealing to current and future employees.
They make workers more efficient: making your team members independent has its benefits. They can focus on projects without factoring in how much time they've lost or how to put a team together in time to meet a short deadline.
What are collaborative skills?
Collaborative skills enable you to work well with others. Since the majority of work environments demand collaboration, those skills are indispensable. Usually, they include meeting expectations, managing priorities, and understanding various perspectives.
It is essential to note that collaborative skills are all about mutual respect and cooperative spirit. In most cases, employers will opt for employees who can function effectively as part of the team and balance personal accomplishments with group goals.
Types of Collaboration Skills
Open-mindedness: being able to accept new ideas is an essential aspect of collaboration.
Communication: thoughtful and clear communication is another must-have for successful collaboration. Your team members need to be able to talk to each other freely, even those who aren't comfortable speaking in a group.
Planning: keep in mind that collaboration won't be successful if people don't delegate workload, keep things organized and manage responsibilities.
Envisioning the result: another crucial component of collaboration is the ability to think long-term. For those who want to boost their collaboration skills, understanding the project's scope and every member's role in it.
Flexibility: in most cases, collaborative projects tend to face a lot of bumps on the road. Problems happen, obstacles delay projects, and priorities shift. Team members need to be able to adapt rapidly when the time comes.
Sharing opinions: last but not least, debating and sharing ideas with your coworkers will ensure more effective collaboration.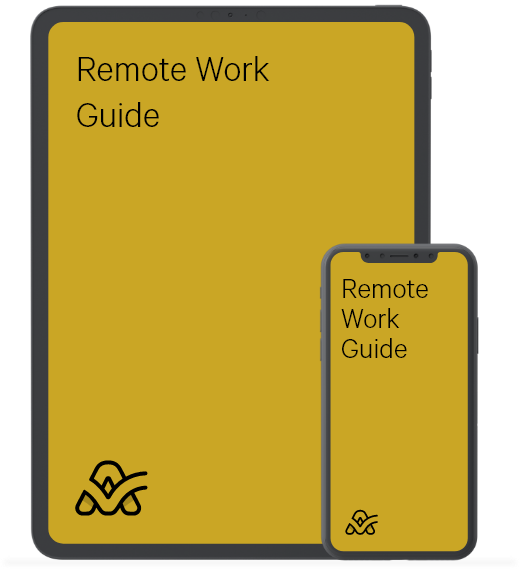 Remote Work Guide
This guide will give you clear instructions for making a smooth transition towards remote operations, getting the best experience with remote work.
How to develop collaboration skills?
Get out of your comfort zone: working on projects outside the area you're specialized in will force you to rely on others. For instance, if you are a web designer and have a chance to help implement a new project management system, you can use this opportunity to offer your skills while learning from your coworkers in other departments.
Communicate clearly: when you are working with other departments, it's crucial to be clear and timely in your responses because they might not be familiar with the terminology you and your team members use.
Build and maintain trust: when we set aside our vulnerabilities, trust is the crucial element that's hard to build and easy to lose. Trust is proven through real life and action and not built on words. Only when trust is established, the team can address necessary issues to move forward.
Accept changes: in business, change is the only constant, so make it your competitive advantage. Initiate the change rather than react to it and provide your team with clear instructions to help them understand why change is essential.
Find a mentor: some companies have formal mentorship programs. Even if they don't, you can talk to your coworkers with impressive collaboration skills to mentor you. This type of relationship doesn't have to be a big commitment. It could be as simple as sharing lunch twice a month.
Take part in team-building activities: working with a group towards the same goal can strengthen and improve your collaboration skills. If your company doesn't offer team-building activities, you can always suggest some to your manager.
What are some key aspects of good collaboration?
Excellent communication: effective communication and collaboration are what sets apart a successful team from a failing one. Having clear instructions, asking for direction, and listening to your team members provides transparency in your expectations and responsibilities.
Active employees: an employee who isn't engaged in workload, doesn't communicate with his peers, and fails to meet the project's goal will not want to collaborate. To prevent having detached team members, ensure that every employee knows his purpose and that his contribution to the project is valued.
Efficient Leaders: you can't have a successful team without expert leaders. Being responsible for a team isn't an easy task and requires many organizational, personal, and technical skills. As a project manager, your job is to ensure harmony that helps your team meet their goals and accommodate different individuals within the team and encourage a collaborative environment.
Compromise: working with a group of people who have different egos and ambitions means that not everyone will always see eye to eye. However, if you know how to compromise, you can get your team members to agree on a solution and keep the work flowing smoothly.
Conflict management: more often than not, when you have more people working on the same project, a conflict may arise. Therefore, your coworkers should be able to resolve and manage any issues themselves.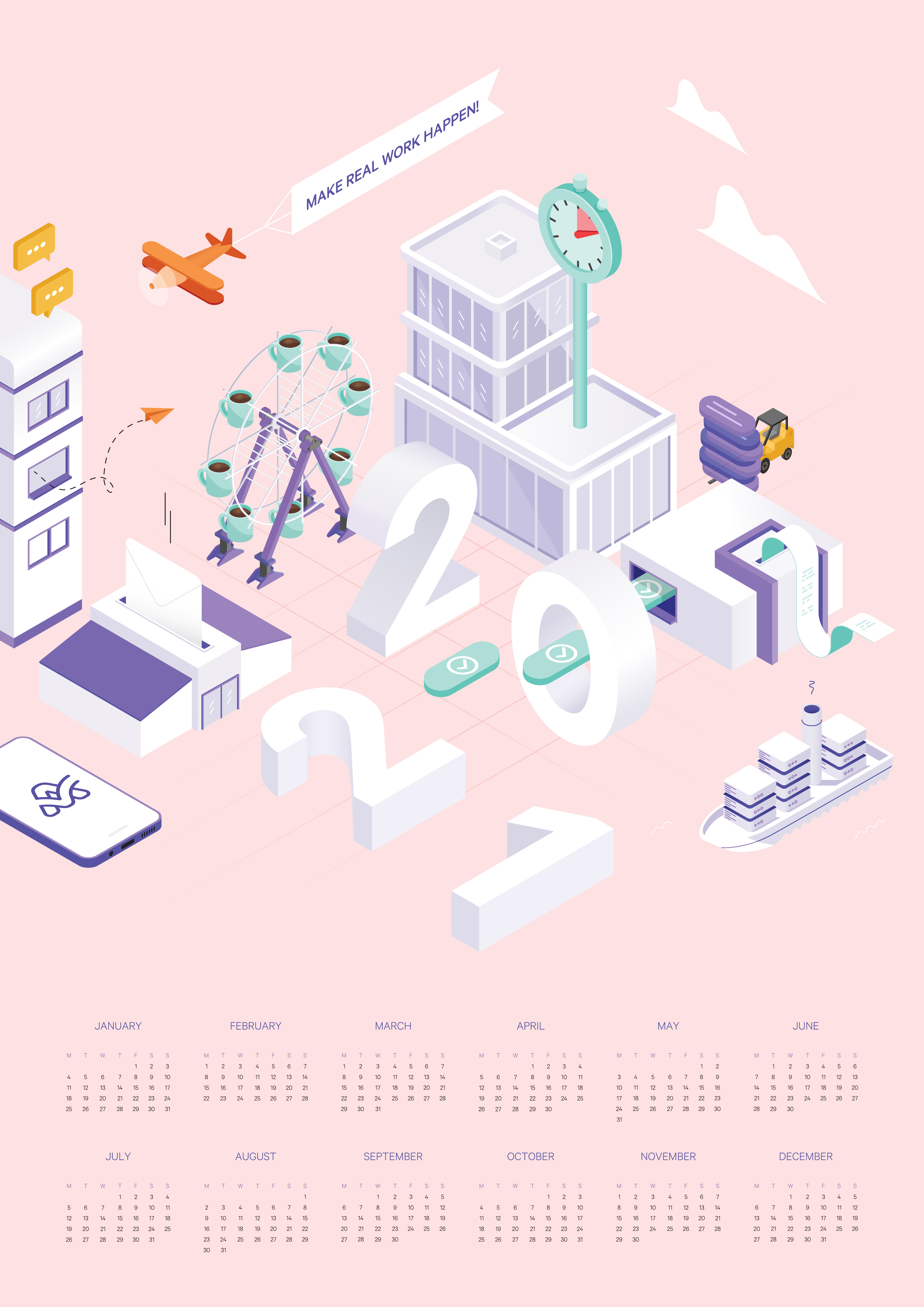 ActiveCollab 2021 Calendar