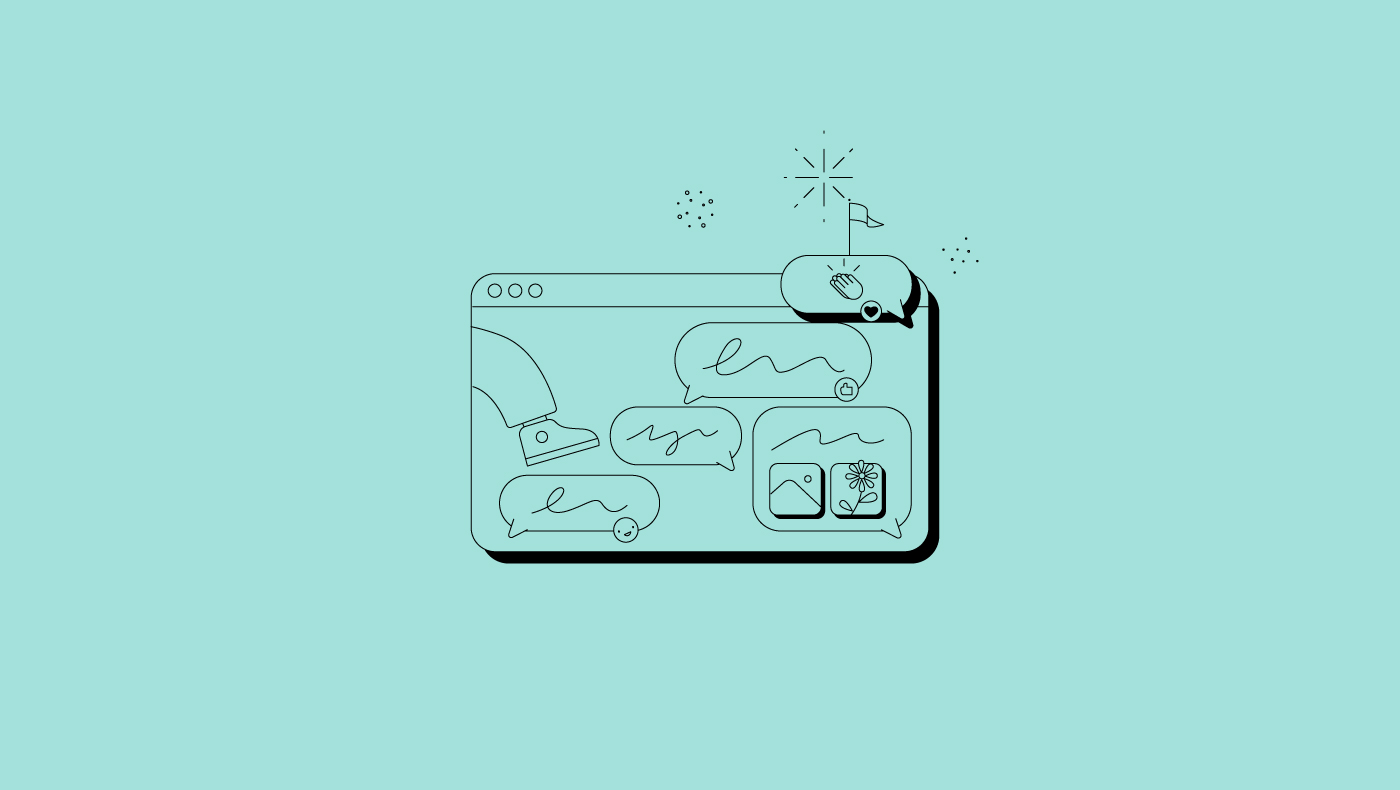 Ways instant messaging at work boosts workplace productivity
What you doing? (What you doing?)
Where you at? (Where you at?)
Oh, you got plans? (You got plans?)
Don't say that (shut your trap)
Bruno Mars couldn't have said it better. Since many teams now work remotely, we rely on instant messaging at work to bond with our coworkers, just as we would in the office by the water cooler, or in the kitchen while preparing our coffee in the morning.
Studies have shown that work friends make us more productive. And what's a better way of getting closer to our coworkers, than instant messaging at work?
With this being said, we decided to explore the reasons instant messaging at work boosts workplace productivity.
It streamlines communication.
If you're wondering how instant messaging at work boosts workplace productivity - wonder no more! The first way it's able to do so it's the fact the communication via chat is much faster compared to any other type of communication channel.
When we send an email, we usually have to wait quite a bit to get a response. Plus, email is usually considered to be a more formal way of communication and it might take a few of them to get what you need. Instant communication, since it mimics spoken conversation, it's less formal, and it allows you to ask questions without having to spend time exchanging pleasantries.
Furthermore, communicating via the instant messaging app is much more convenient and flexible as employees usually can answer inquiries even while being on the go. Also, since in most messaging platforms users can set their availability status, it decreases the time people would use wandering around or trying to get in contact with a coworker that's not available.
It improves the employee onboarding process.
Some studies suggest that employees become fully productive after two years working within an organization. That said, if we could speed up the onboarding process, employees could reach their full potential much faster.
Collaborative chat can aid the onboarding process since it allows employers to organize onboarding materials in dedicated chats and it allows employees to read chat's history at their own pace. What's more, by doing this, there's no fear of them forgetting important information since they can always look it up on these channels.
Reduces in-person meetings.
Have you ever felt stuck in a meeting? Have you ever experienced Zoom fatigue? You're not alone! By the stats, companies waste approximately 15 percent of their time and lose around $37 billion dollars on unproductive meetings.
Luckily, there's a solution to avoid unnecessary meetings, save energy and increase productivity. Workplace chats can serve as a replacement for long in-person meetings and decrease the chances of Zoom fatigue.
You can create a chat or channel where each team member can post bullet points to keep everyone in the loop, and only hold meetings if it's absolutely necessary.
It decreases distractions.
One study from 2018 found that the biggest workplace distractions are small tasks with coworkers, meetings, phone calls, and office noise. Participants agreed on one thing: they would be more productive if they had more direct lines of communication.
As direct as communication can be, instant messenger for business allows employees to communicate in a clear way and get to the point much faster. Furthermore, direct messages allow users to build more personal relationships which increases their motivation and engagement. All of this has a positive effect on their productivity and the quality of their work.
Ability to provide instant feedback.
According to the research , Millennials, a generation that now makes up the biggest workforce in the world, want more feedback from their managers. Respondents state they want feedback at least once a month, which is 50 percent more than non-Millennials.
One way to make the feedbacking process much more accessible is to use instant messaging for that purpose. Managers and coworkers can give feedback on assignments and tasks promptly and much more efficiently.
Even a small reaction such as a simple thumbs-up sign can make work more pleasurable since people will know if they're going in the right direction. Furthermore, the ability to resolve obstacles promptly boosts productivity and the quality of work.
How to use instant messaging at work to ensure productivity?
Now, when we've seen how instant messenger for business can improve workplace productivity, let's go through tips and tricks on how to use it to its full potential.
Update your status regularly.
To be as efficient as possible while working remotely, make sure to regularly update your availability status in your messaging app. Your coworkers shouldn't waste their valuable time trying to reach out to you while you're away and stall their task completion program.
Likewise, make sure to enter a message in a status bar (if it exists) so your coworker will know not to disturb you when you're too busy dealing with more demanding tasks. By knowing your availability, they can manage their time better as well and avoid time waste.
Pick the appropriate channel for different types of communication.
Not every message is appropriate for a chat. For instance, if you need to send a lengthy message it's always better to use email instead, as it is usually the most convenient way for the other person to read and understand what you want to say instead of endlessly scrolling. Or, in some cases, it's better to have an audio or video call for a more detailed explanation. That said, if you want to use your business chat smartly, make sure what kind of message you want to send and which channel is best suited for this type of message.
Be concise.
Instant messengers are not made for lengthy messages. If you want to be as efficient as possible, you might want to try to practise how to send needed information in a more concise manner. Before you send a message, think about whether it could be any shorter and rewrite it as needed.