We're so excited to tell you all about what's new in ActiveCollab! These couple of months have been very busy, as you could see in our monthly updates.
If you're not a fan of long blog posts, here's a quick overview of what we have in store for you:
To make all this happen, we had to introduce a whole new concept to our system: internal hourly rates. Basically, that's the hourly rate per employee, financed internally by the company, not the client.
Now that we laid out the summary, we can talk about it all in more detail!
Internal hourly rates
First up, internal hourly rates. They can be set up for each employee, and their currency is defined in the system settings.
It's always better to illustrate concepts with examples, so here's one. Paula is running an agency and Jason works there as a designer for a certain salary, while Mike is a developer. Paula keeps bringing in projects from various clients.
The budgets and the number of hours each employee needs to invest differs from project to project. However, their salary remains the same every month. Divided by days and hours, we're able to calculate the internal hourly rate of each employee.
We know how important privacy is, so we made sure this rate is only visible to those who have access to the account's finances.
You're probably already aware ActiveCollab has an integrated Stopwatch which lets you track time on tasks. We highly recommend you and your team use it, because the information on tracked minutes and hours will be very useful later, and we'll explain how.
Timesheet
When your team members track the time they invest in each task, by opening the Timesheet, you'll be able to see who's been working on what, week by week. If you expand a team member's field, the tasks they've been working on will show up, sorted by project. You'll also see the total amount of tracked hours, per day and per user.
Only those with an Owner or Member + roles can view the Timesheet, and check whether their team members tracked as many hours as their daily and weekly capacities are determined to be.
For example, if Mike tracked 7 hours, and his daily capacity is 8 hours, that day's field will be red, as well as that week's total field. In case he tracks 9 hours the next day, that cell will be orange instead, while the week's total won't be red anymore, as the number of tracked hours evened out.
When someone takes a day (or few!) off, they will be marked in the Timesheet and the weekly capacity will be automatically recalculated. So, if Mike takes Monday and Tuesday off, his weekly capacity won't be 40 hours anymore, but 24.
If someone takes a day off, but still tracks time on tasks, those minutes and hours will also be shown, and the field will be orange in this case, too.
Perhaps you're already using our feature Workload and thinking, "Well, this sounds familiar!". Precisely. ActiveCollab Workload is a planning tool that lets you see where will your team's time be invested, while Timesheet is a tool that allows you to overview where your time already went.
It can be used as a learning opportunity, as you'll be able to locate exactly how long it took to complete certain tasks. Perhaps you thought some things take a few hours to finish, and it turns out they took days, and vice versa.
Otherwise, it's a very powerful tool for billing. When you know how many hours you've worked on something, you can charge exactly that amount of hours. No more, no less. Forget about letting billable hours slip through your fingers because you can't recollect their precise number. The system will do all the summing up for you.
Profitability
We believe everyone wants to know if they're spending their time and money wisely. That's why we designed a profitability overview that will give you an insight into your project's costs and incomes.
Remember that internal hourly rate we spoke earlier about? Here's where it enters the scene. The system multiplies the time records by the internal hourly rate. It adds that amount to the non-billable expenses, giving you a quick summary of the project's costs.
You may be wondering why we chose this type of arithmetic. When you have permanent employees, they need to be paid every month, regardless of whether you managed to successfully charge your clients or not.
When it comes to incomes, they are made of all the tracked billable hours multiplied by the hourly rate. This time it's the hourly rate you charge your clients for each job type, and each job type has a different hourly rate.
Add to this sum all the billable expenses, and you'll get the total amount of your income. Of course, you don't need to add or subtract anything, as ActiveCollab does it all for you!
Finally, the difference between costs and incomes is what we, and the rest of the world, call Profit! A quick summary of all this will be visible in the Project info.
To illustrate this in a simple way, here's our magic formula:
[Tracked Billable Hours * (Job Type) Hourly Rate + Billable Expenses]
- [All Time Records * Internal Hourly Rate + Non-Billable Expenses]
= Profit

Soon, we'll deliver a cross-project, cross-employee, cross-client, or better yet, a cross-everything profitability report, that will give you a detailed analysis of all the information you need to make sure you're on top of your work!
Time report
You'll also find a brand new time report in the report section. All the time records from selected dates will be waiting for you there, grouped by projects. They're easy to filter out in order to reach the information you need.
Change the time frame, group them by employee, client, or job type and sort them out. When you further expand the time records by these criteria, you'll get a full analysis of each.
No need to keep updating spreadsheets! All your team's time records will be in one place, ready to be sorted in a number of ways. At last, you'll always know where your team's time went, and whether it has been invested wisely.
We know this is a lot of information to take in
Multiply, sum up, subtract, divide… this all may seem very confusing and a bunch of mumbo jumbo, making you look like
the math lady
. So, let's make a quick recap!
The Timesheet gives you an overview of your team's tracked hours on tasks, taking into account their availability, daily and weekly capacities.
The Profitability overview shows you how profitable each project is, by summing up your income as well as your costs, and letting you know if you're in the red or above sea level.
Last, but not least, Time reports. They've been a part of ActiveCollab for a long time, but have now been refurbished. Sort out the necessary information without much fuss.
With all these powerful tools under your belt, you're now fully equipped to make sound and well-informed business decisions! Good luck and stay tuned, for we have many more surprises in store.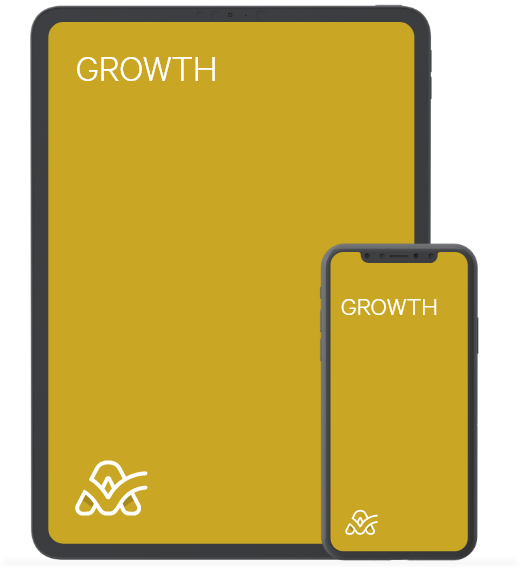 Growth: Everything You Need to Know Before You Can Grow Your Business
Growth causes processes to burst at the seams. What used to work fine now causes bottlenecks because more and more decisions have to go through the business owner. If you don't change how you work, that growth is unsustainable and will only make thigns worse. The book covers everything you need to know to avoid mistakes business owners commonly make when growing their business.