I was a typical city kid. Somehow I got into hiking when I was 25 and fell in love with it. I spent every weekend in the mountains and forests. And then I moved to the hills. I took my cat with me, adopted another cat, and one dog. And so our little pack story began.
I've already been working remotely for years. This doesn't mean I was traveling around the world like digital nomads do. It just means I was working from home. But this time, my home wasn't a duplex encased in concrete, but a modest house surrounded by conifers, lawns, forest. Remote finally got literal. This is a story about my system and how it works.
There is a time for everything
I usually worked in fixed time frames, e.g., 11am-7pm, or 9am-5pm. But something unplanned would often happen, and I would be finishing private chores during work hours and picking up on leftover business tasks on the weekends. It was me not being disciplined enough - answering all the calls, emails, and messages at any time and just going with the flow, instead of having a strict schedule. It didn't only result in a lack of focus, but I was also nervous most of the time and too harsh on myself - it felt like the day didn't last long enough for me. While editing photos, I was thinking of mowing the lawn, while running, I was thinking of all the unanswered messages on Facebook Pages.
Everything turned out alright as soon as I reorganized my time and responsibilities. Now I can go for a run or swim during my lunch break. But only because I managed to prepare meals before work and save time on other activities.
The efficiency of my work thrived when I drew a thick red line separating my work and private life.
There is a place for everything
I used to work on the desktop in my bedroom when it's cold and outside on my laptop during warm days. What bothered me was having to work in my bedroom. I would get frustrated when people asked how come I don't exercise at home. Where? In the same room where I do my regular work? My freelance gigs? Where I sleep, read books, and sometimes merely lounge around doing nothing? I was getting sick and tired of using a single space for everything. It dawned on me that I should make a workroom. When I finally did, the extra space in my bedroom felt liberating. I began appreciating and enjoying my bedroom again. It felt like I even had more spare time for myself. The only thing my workroom now lacks is the perfect office chair. Already on the shopping list!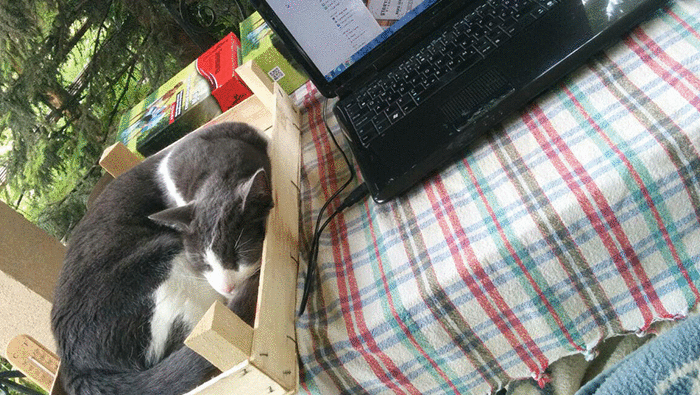 There is a device for everything
It's Friday evening. I'm making dinner and Skype makes a sound. I look at my laptop; it's my manager looking for feedback on a report we made earlier. Half an hour later, Pages Manager blinks on my phone. Someone wants their money back. Then friends send photos on Viber. While I'm making my Friday dinner.
Not fair.
So now I have a laptop. It's where I keep my private files and use Imgur, Viber, TrainingPeaks, and all the other apps I love. And then there's my business laptop. Work only. Of course, there are some apps on my phone that I also use for work, but I got used to snoozing them regularly.
And then there's some
There are a few other things that mean a lot. Silicone keyboard cover - my keyboard needs to be safe! No bird droppings or bread crumbs allowed. Staying fit - because I need to chop wood, bring fresh spring water in my backpack, take care of plants, dig my way out of 20 inches of snow. No painkillers, just muscle! Electric heater with set timer - because I don't want to come inside the house during winter and feel no difference in temperature. Waterproof backpack - so my laptop is safe and sound, no matter the weather. Sunscreen - always wear some!
What makes remote so good
People usually can't wait for the weekend. I know the feeling, but by moving to the hills, that sentiment has faded away a bit. And this is why: during an ideal day, I will walk my dog before work and go for a run afterward. Things I'd usually do on weekends, now I do almost every day. It's how I found my peace. Of course, I love weekends, but I'm not merely getting through the workdays anymore - I'm living them. My outdoorsy and active lifestyle enables me to focus better, do and learn more than ever before. That fear of missing out people are often dreading? I recognized it was happening to me, but in my case - I felt like I was missing something when I'm indoors. The moment I take my laptop to the front yard and start working from there, everything is OK.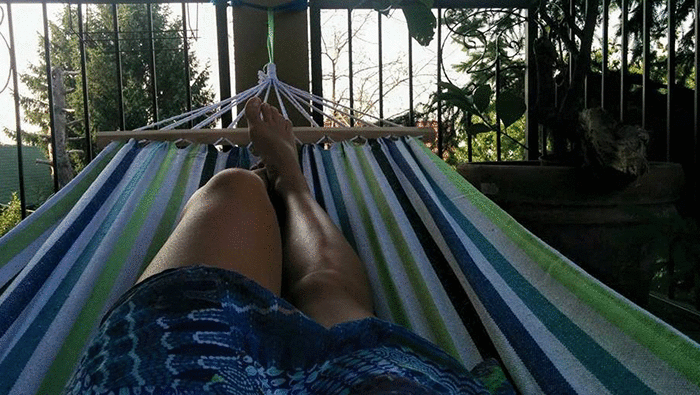 I don't need productivity apps, tips, and tricks. All those natural sounds (birds chirping, a bit of traffic, the wind, dogs, wood chopping in the distance) are so benign, I can't even call them distractions. They set the working atmosphere perfectly. Plus, when working at the office, there's no space to really vent - take a brisk walk and breathe in the fresh air to get the blood going after finishing a big chunk of work. When working remotely, I can simply focus on the snow falling; I can hug my dog, or do a 5-minute stretch. No questions asked.
It all comes down to collaboration
Looking back on this, I realize it's all about collaboration. And loving working with people. I don't get the luxury of being an introvert.
When I'm traveling, I need someone to take care of the pack. In return, I often take care of my friends' pets. While climbing, I need someone to belay me. Whatever I'm doing, I have to collaborate; it's a human need. Fortunately, I love being surrounded by people, I love working with them, talking to them, and my job enables me to do just that. It just doesn't have to be 24/7, and I'm good!
Come to think of it, it made perfect sense for me to start working in a company which is all about collaboration. I'm thrilled to be a part of the crew that helps people do the Real Work. Plus, they let me work remotely and don't mind when I spam our instant messenger with pictures of my cats, so I think they're OK with me, too.