Enabling the add-on will send all new invoices from ActiveCollab to your Xero account for further processing. After sending an invoice to Xero, you won't be able to edit it in ActiveCollab anymore.

Also, all invoices made before connecting to Xero, as well as the entire Estimates section will become unavailable. However, they won't be removed and will reappear if you disconnect Xero.
Exporting Old Invoices

If you need an archive of your old invoices, make sure to download them as PDFs before connecting to Xero - or contact our support and we'll export them for you.

Connecting to Xero:

Open Add-Ons and click Configure next to Xero,

Click Connect to Xero,

Sign in to Xero,

Choose an organization and click Authorise.

Connecting Self-Hosted ActiveCollab

Before you can connect, you'll need to create a private Xero application and copy/paste the keys to ActiveCollab. When generating keys, please set a blank password (just hit Enter).
Creating an Invoice
When creating a new invoice in ActiveCollab, choose a client from the list of companies from Xero.
You can then select the desired projects, which time and expense entries to include, and how to group them.
To create the invoice, click Proceed creating an invoice in Xero.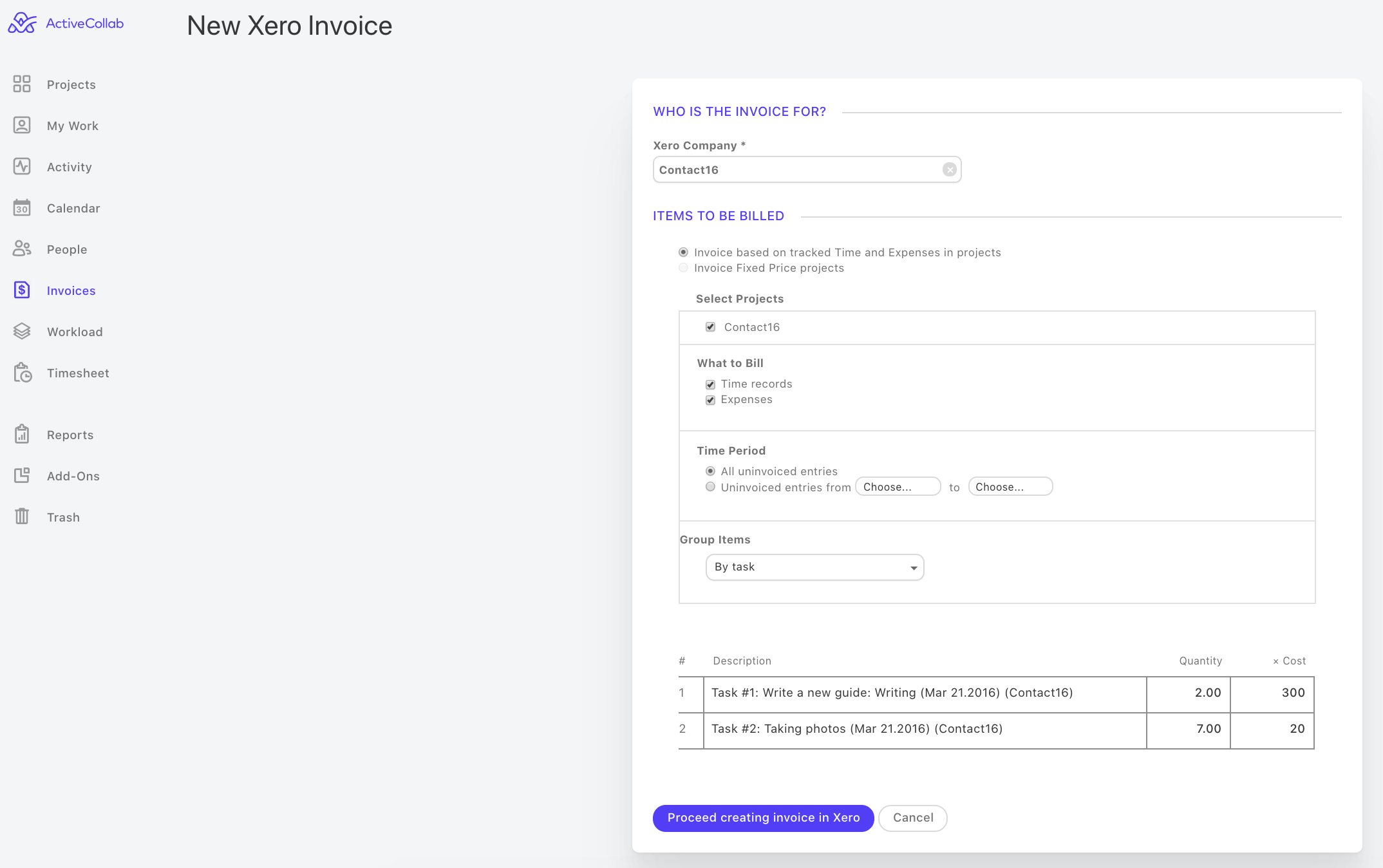 The newly created invoice will be sent to Xero where you'll finish creating it..

How It Works
You'll be able to manage invoices only in Xero - but the changes there will be reflected in ActiveCollab as well:
Editing an invoice in Xero will update the amount in ActiveCollab,

Sending will mark the invoice as sent,

Paying will mark the invoice as paid,

Canceling will mark the invoice as canceled,

Deleting will delete the invoice in ActiveCollab as well.
Disconnecting Xero
When you disconnect, all the invoices you sent to Xero will become unavailable in ActiveCollab (but they'll stay in Xero).
They'll reappear in ActiveCollab if you connect Xero again.